Hey! How are you doing?
It has been a long time since I shared something here, and it is not surprising, since lately my times have begun to shrink more than normal, and sincerely a stage in my life is approaching in which responsibilities increase and hobbies decrease. But hey, leaving aside the ramblings, I would like to show you a little work that I have been doing for a long time and some other new news that I am currently working on. It should be noted that some of these have already been a long time since its creation, so if you notice a difference in quality, it is because they are already old. Therefore I will try to sort it chronologically, for more comfort! 
Let us begin!
---
2017 
A long time ago, I had the idea of updating the sprites of Madnesia19 character, I didn't want to get out so much of her character's design, so I kept that simplicity that her original character has. I was satisfied with the result at that time.
Leaving sprites aside, I also went deeper into experimenting with visual effects, in this case I tried to create a particle effect, to be the first one I do, it's not bad
---
2018
As you can see, a while ago, I was collaborating on a project together with Madnesia19, my task was to create some enemy units for your film and one that other sprites more. Even if they already have some time, I can admit that it took me a good time to design these children, it was not easy, but I am happy with the level of detail that I gave them! This squad is called "Brute Force"
These are some weapons that I made for the project
Maybe, at some point, share the sprites so they can use them in their projects. Someday.
---
2019
This was a small gift for XFA, he had trouble updating his character, so I lent him a hand so he could create his different perspectives, even though the change was quite large compared to his old character, I'm glad that I use it as a reference to finish the sprites of it. It is worth mentioning that Dankon helped to create the hair sketch.
This was also a small gift for my friend Celess, I am quite proud to create this oc! And also, Many thanks to Uroguro for giving me help with the hair sketch
In case some saw the animations of Madnesia, most likely they have noticed that the characters when speaking, have a text box to place the sentences. With that point in mind, I had the idea of ​​making my own design of a new text box for Madnesia19.
This was a character who believes based on an idea that Madnesia had at the time, the character was abandoned and discarded at the end, even so, I feel he can be a good character in some project.
This was a mini project that I did with Uroguro a long time ago, unfortunately it could never be completed and was forgotten. Luckily, one of these days, she will remaster this drawing.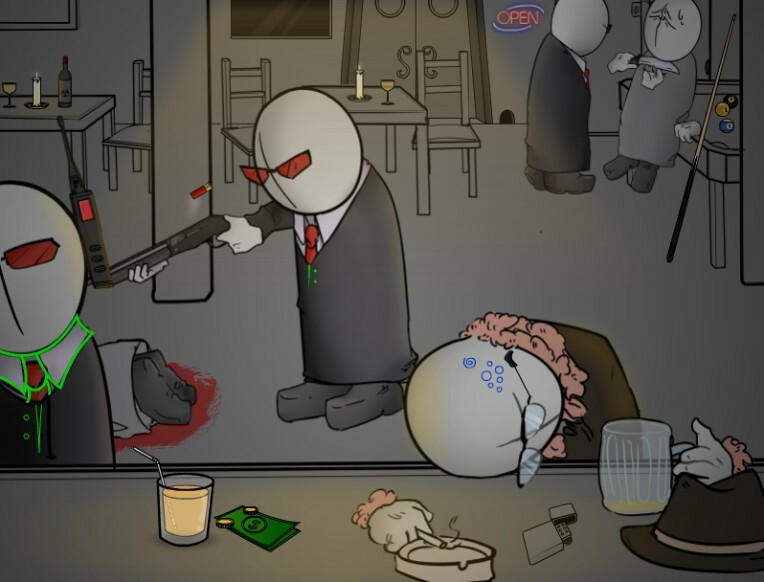 ---
2020
And finally, to start this new year, I updated my character, reacting all the sprites from 0, obviously always maintaining that resemblance to the original design, but innovating as far as everything is concerned. I must admit, that he was one of the characters that I dedicated more dedication and more detail I put.

I would also like to contribute, that in recent months, I was spending time to become more professional in the area of ​​3D design and 3D printing! Since my studies allowed me to focus on this area, to the point that I can already have a 3D printer personally, so I can print the parts I designed for myself. It is a completely new new environment to which I was accustomed, leaving aside a little the experience I obtained in SFM (which I still use). Even so, the progress is remarkable, and who knows, maybe one day share my designs on this site
And obviously I must say yes! I am still working with my personal project. Not trying as hard as before, but at least there is one advance, since in recent times I was devoting myself to remastering some scenes and some sprites. It is on the right track, but little by little I make progress! Here you have a small spoiler
---
And that is all I have to share so far, obviously I did many more things during all this time, but these are some that highlight more of everything. But well, at least it is enough to show something and not be so inactive on this site, and speaking of inactivity, I most likely do not have all the time in the world to progress in my daily projects, but it is true that I will not leave them abandoned, every time I have free time, that I will continue to progress!
See You!